BEST SAGE 300 ERP PARTNER IN DUBAI, UAE
SAGE 300 c ERP IN DUBAI, UAE
We are the best SAGE 300 ERP Providers & Partners in Dubai, UAE for companies who required our solutions and Software's. SAGE 300c helps Whether your business has one or multiple locations in the same city or across international borders. Sage 300c helps you can manage finances, operations, and inventory with multiple languages and multi currencies. With real-time, mobile friendly access and visibility across your whole organization to keep your business on track, Sage 300c allows you to: 
Break down departmental silos for the companywide transparency and improved collaboration. 
Tap into a real-time data, unified view of your organization's finances, operations and Inventory. 
Reduce  redundancies and inefficiencies  so you can optimize organization's performance, productivity. 
Integrate front-to-back-office processes such as sales, marketing,  and customer service. 
Work anywhere and anytime.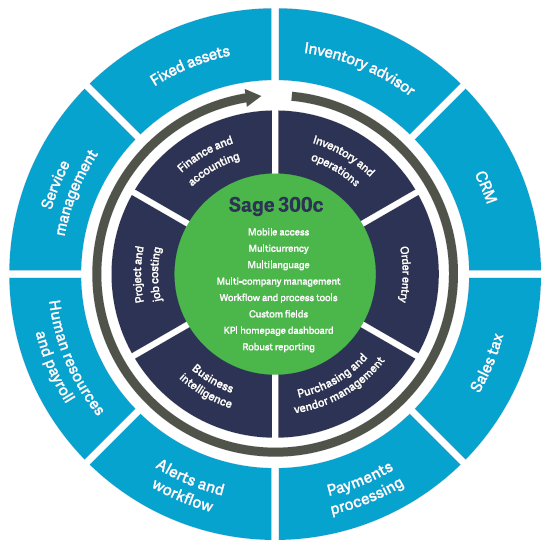 Key Features of SAGE 300 c ERP For the Companies in UAE
Sage 300c helps small and medium companies manage their complete organization in Dubai, Abu Dhabi, UAE across geographies without the cost or complexity of traditional enterprise resource planning (ERP) software. The preferred software for tens of thousands of organizations across the globe, Sage 300 ERP Software connects the most important aspects of your growing business, including:
Financials Management.
Operations and inventory Management.
Project and Job management.
HR management and payroll.
marketing, Sales, and customer service.
The advantages keep coming. Sage has an very good international network of third-party Software solution providers in Dubai, Abu Dhabi, UAE whose add-on solutions and plugins extend Sage 300c .ever further to meet the very specialized needs of your business. Imagine a world where your organization's can process Purchase and sales orders, fulfill orders on time, reconcile your books across multiple companies and currencies, accept and make payments, pay employees expenses, and manage Jobs and projects, all with one trusted solution. Welcome to Sage 300c.
Whatever the size of your organization in Dubai, Abu Dhabi, UAE, General Ledger in SAGE 300 ERP can handle all your financial record-keeping and reporting requirements. Users will use General Ledger module to set up and maintain your chart of accounts, to enter or transfer all transactions from different sources, and to print different of GL reports, including a chart of accounts, posting journal, trial balance and transactions listing.
You use Sage 300 in Dubai for Intelligence Reporting, which comes with Sage 300, to print financial statements, which includes income statements, Cash Flow reports and balance sheets etc. .One can also use Financial Reporter, which comes with General Ledger, to print financial statements and can produce comprehensive management reports.
General Ledger module in SAGE 300 ERP Partners in UAE supports multiple currency for Financial accounting, integrates easily with other Sage 300 modules, and it will  supports export and import of transaction data for use with other programs.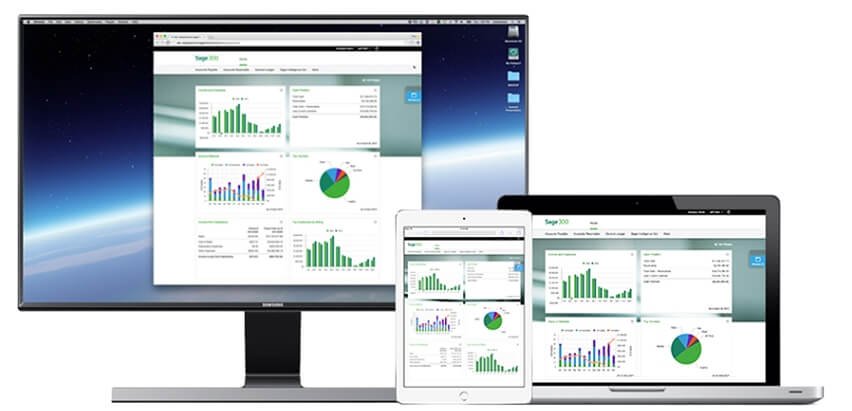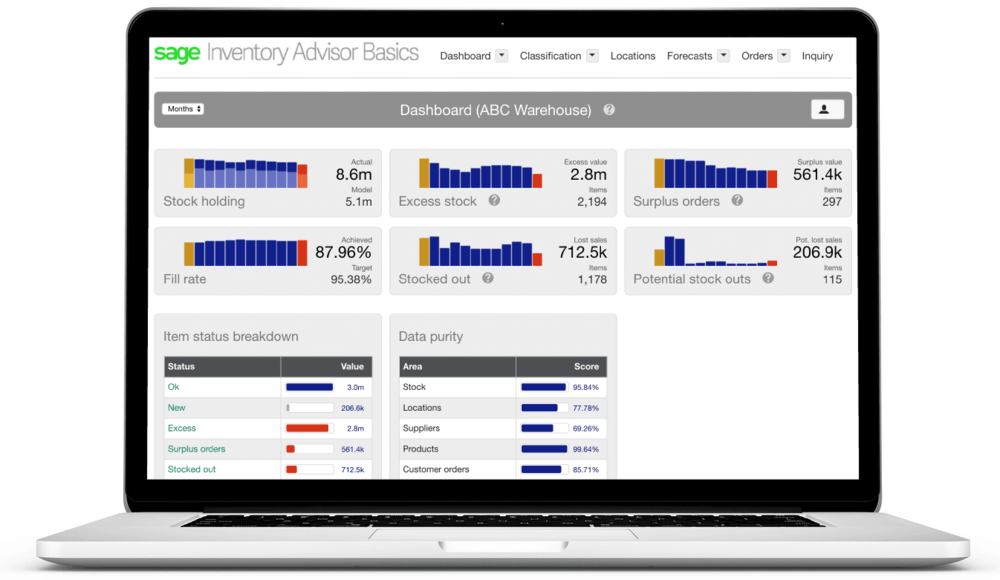 Inventory Control module in SAGE 300 Cloud ERP providers in Dubai, UAE maintains detailed perpetual and Periodic stock records and produces standard reports to help user to Manage your stock accurately and properly.
Depending the size and complexity of your organisation, you can implement Inventory Control to meet your requirements. Inventory Control can easily handles the complete requirements of your existing inventory management system if you have and offers many sophisticated features you can use to manage your inventory effectively.
You can use Inventory Control in SAGE 300 ERP Cloud by itself or as part of an integrated system with other Sage 300 accounting programs or any other systems. One can also transfer Inventory Control information to and from spread sheet and database programs.
Its depending on your purchase agreement, some of the features in SAGE will be described because SAGE have multiple modules and versions
Accounts Receivable handles all your customer receivables which booked in SAGE ACCPAC Dubai, Abu Dhabi, UAE record keeping and reporting requirements, regardless depends the size and length of your business. One can use Customer Module to configure and maintain your customer records, enter or import transactions from different sources, and print customer invoices. You can track account and transaction details on customer wise and print different kinds of MIS reports.
One can use Customer Module as a standalone or as a part of an integrated software system with other Sage 300 programs or other custom applications. You can also transfer Accounts Receivable data to and from spread sheet and database applications. You can also talks Accounts Receivable with the following Sage 300 modules:
General Ledger and Financial Reporter.
Order Entry.
Project and Job Costing.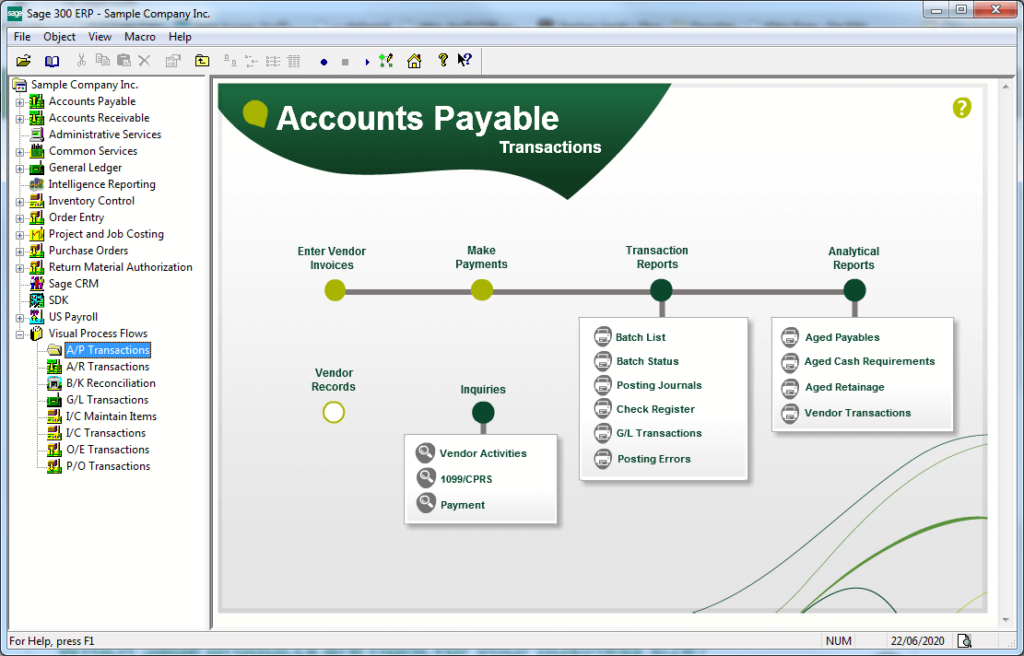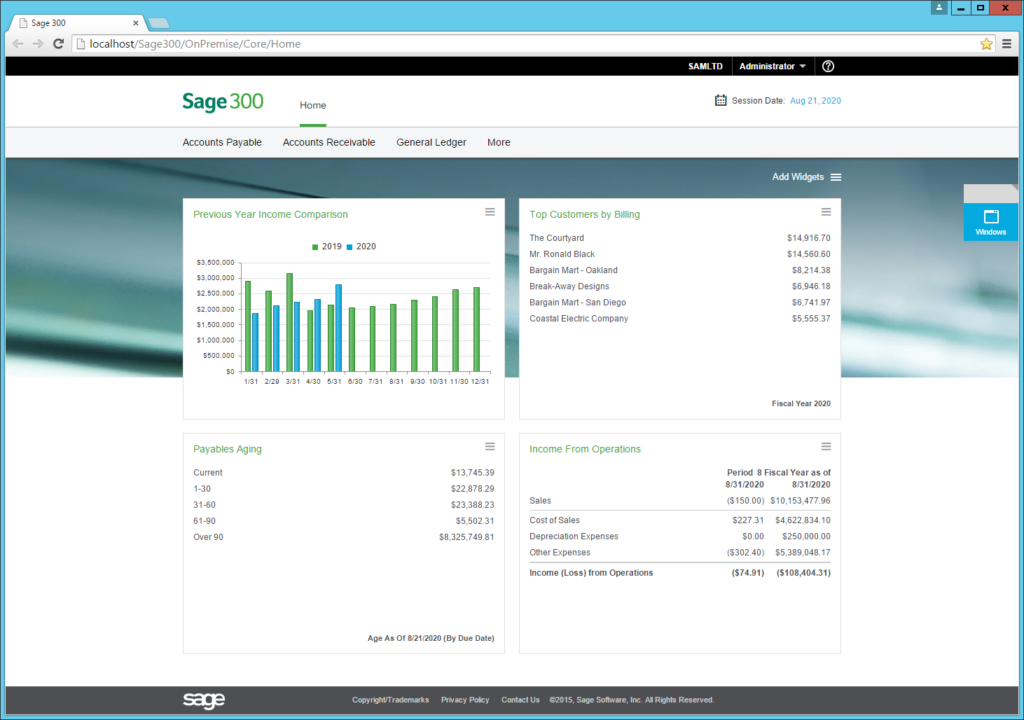 Accounts Payable in SAGE 300 Accounting software in Dubai, UAE handles all your payables book keeping and reporting as per user requirements, regardless of the length and complexity of your organisation. You can use AP Module to configure and maintain you're all Supplier accounts, entering data or import transactions from different data sources, and print supplier checks. You can track supplier account and transaction complete details on screen and on printed MIS reports. Supplier Module produces the standard reports you need to avoid late payment fines, secure Supplier discounts, and match petty Cash requirements to cash resources.
You can use Vendor Module in Sage 300 ERP ACCPAC by standalone or as part of an integrated system with other Sage 300 Programs. You can also transfer Accounts Payable account data to and from spread sheet and Database software programs. You can integrate Vendor Module with the following Sage 300 ERP programs:
• General Ledger and Financial Reporter.
• Purchase Orders.
• Project and Job Costing.
PROJECT & JOB COSTING IN DUBAI
Keep projects on control and budget with proper estimating, tracking, and project billing in Sage 300 ERP. With the help of  Sage 300 ERP in UAE project job costing, you're better equipped to:
Project Cost can be controlled
Maintain and control  contractors and subcontractors
Track all costs and revenue with a minimum 4 level.
Monitor and track original projections and compare with actuals, Budgeted.
MIS Reports for all kind of reports with different costing formats.
Alerts will get if job exceed the estimated cost.
Jobs can be converted to product.
sage x3 people hr software
Sage X3 People module is customized for African and GCC countries includes Dubai, UAE, Abu Dhabi by Sage HR & Payroll, a division of Sage South Africa and UAE. Sage HR & Payroll software is a most leading supplied of payroll & human resource management solutions on the African continent and UAE.
Sage is the top market leader for integrated accounting Software's, payment and payroll software systems, which they will support the ambition of the world's organizations.
Business Process Management
• Full procure-to-pay capability of Inventory and non-inventory items; assets, whether expensed or used in a project.
• The capability to create new Suppliers, reconcile their accounts and authorize their payments.
• Transparency and visibility of financial budget status including  commitments when initiating and approving transactions.
• The capability to easily create stock requisitions, have them approved 
• Runs in a web browser and mobile platform environments.
• Can use a combination of different organizational charts and user defined  rules to design specific workflows.
• Field level security protects the selection lists available to users dramatically improving the accuracy of captured data.
• Flexible form layouts that helps only relevant fields are displayed on capture screens.
• Automate data entry using Optical Character Recognition scanning (OCR) technology which reduces data entry errors and increasing productivity.
Manufacturing SAGE 300 ERP In Dubai
Manufacturing Order : Designed to helps accurate production process flow covering manufacturing orders, WIP, routing cost calculation, material usage, item scraped and item substitution and order closeout.
Production Planning : As a production scheduling and materials requirement planning solution, Production Planning covers full scale MPS and MRP plans based on production and BOM information, as well as sales, stock keeping and purchase order information in Sage 300.
Shop Floor Control: Shop Floor Control saves detailed production data from inventory issuance to the finished goods being produced by recording time and shop transactions during production process for efficiency and utilization analysis.
Quality Control : Many businesses requires inspection of materials receiving and manufactured goods. Quality Control automatically transfer stock in quarantine for inspection, assign testers, track testing results and acceptance and rejection reasons, and move stock to the intended warehouse location once accepted.
INTER COMPANY SAGE 300 ERP ABU DHABI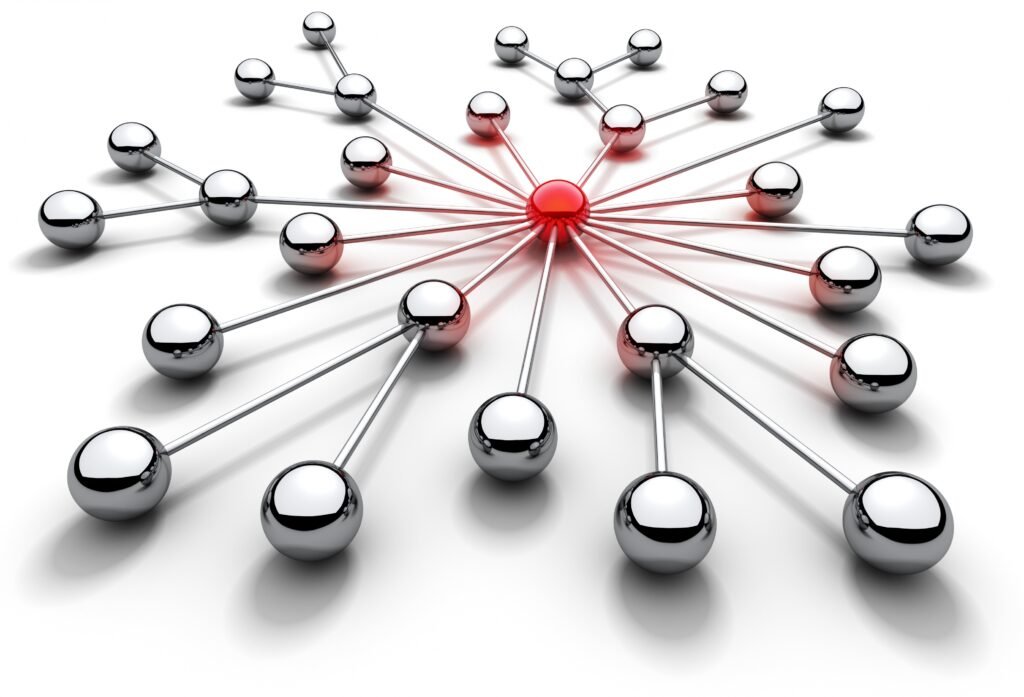 The module provides the following features and benefits:
Entry of multiple company journal entries and intercompany Accounts Payable.
Multiple level routes between all companies, so there can be any number of intermediate companies between the originating company & the destination co.
An unlimited number of routes between any two organizations. User can choose the route at the time a transaction is entered.
There will be a Multi Company loan account reconciliation report to identify both loan accounts that do not agree.
Capacity for Multiple companies with different year-ends.
Full multicurrency support and Full integration with Tax Services.
TAX SERVICES SAGE 300 ERP DUBAI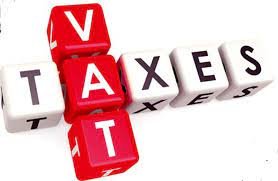 Tax Services in SAGE 300 ERP Providers in Dubai, UAE will manages all taxes incurred by a organisations sale or purchase of goods and services as per UAE, Dubai, Abu Dhabi Standards. The application maintains tax tables, calculates tax tables, and maintains tax audit information. It centralizes complete tax data on sales & purchases for all Sage 300 accounting or ERP programs.
If you are required to report tax information, such as a Value Added Tax or the Goods and Services Tax (GST), you must use Tax Services. The user must activate and configure Tax Services as per your country requirements before you can enter tax information in your sub ledgers.
If you are looking for a Top SAGE 300 c ERP Pricing Partner in Dubai, UAE